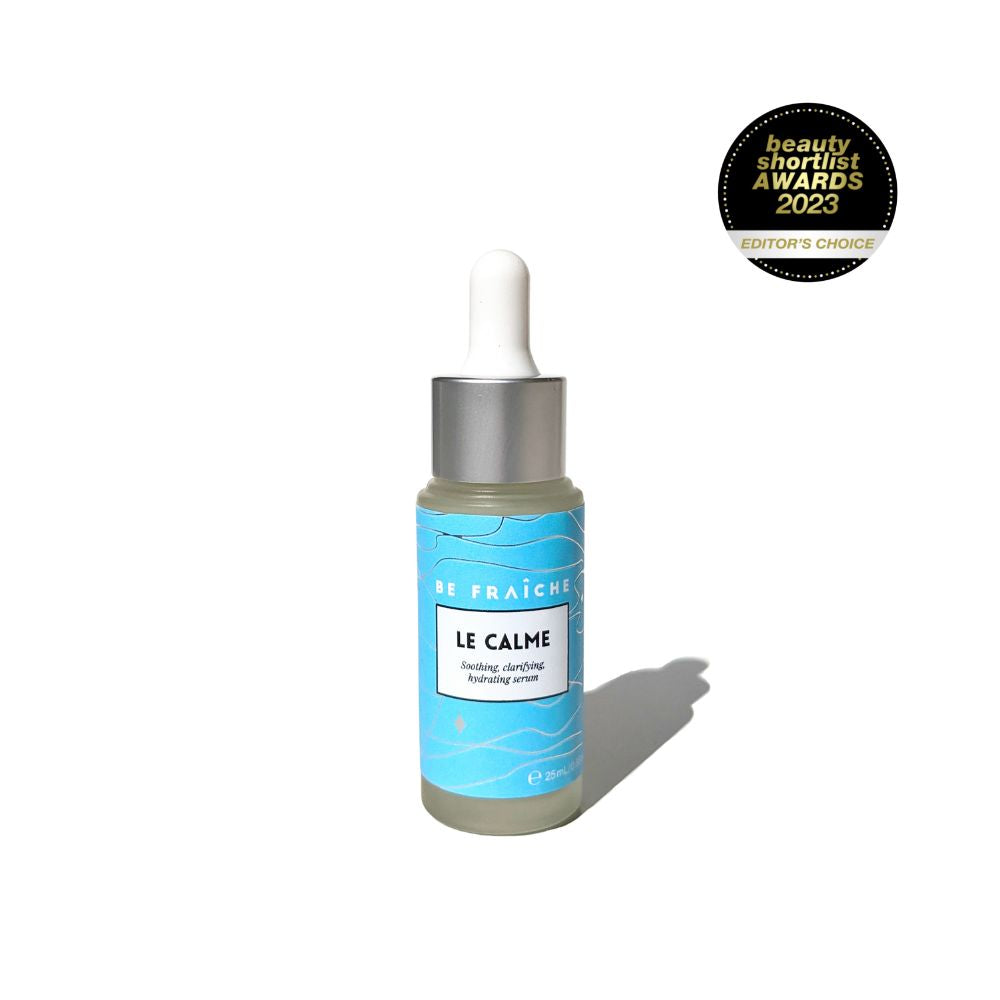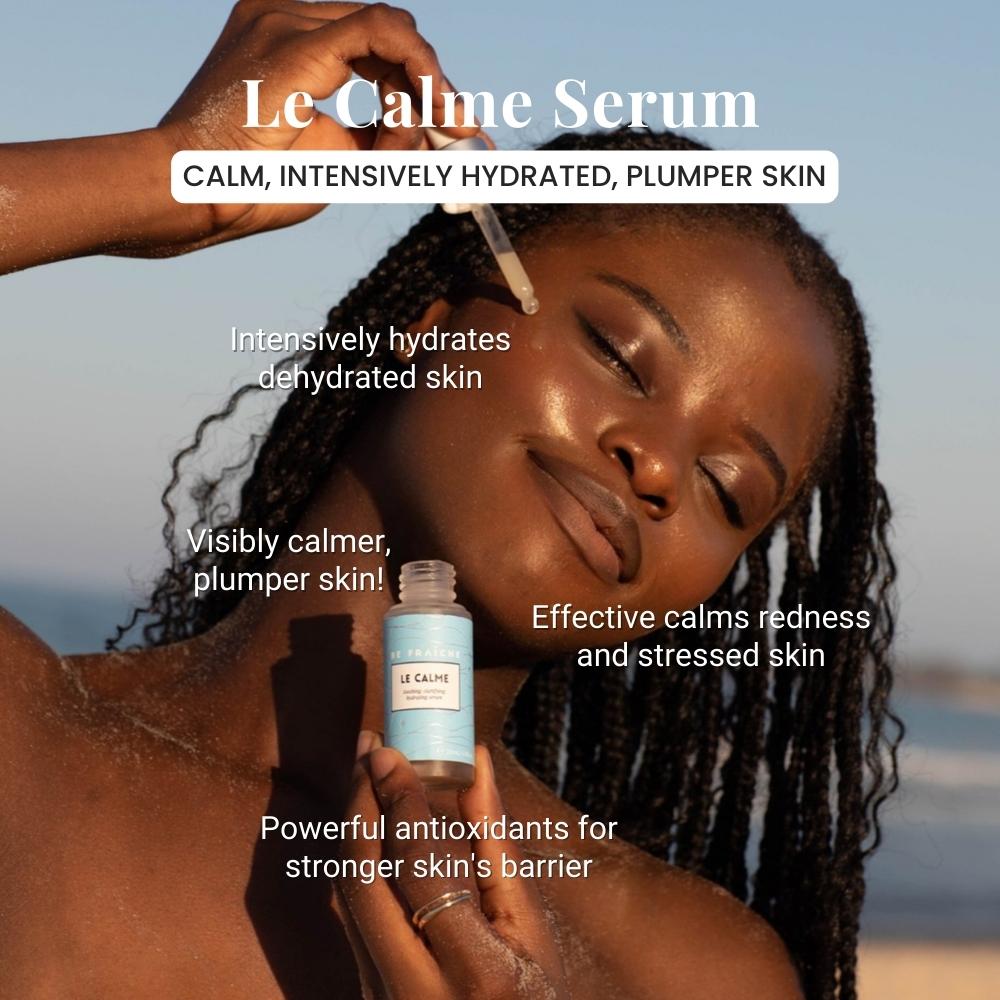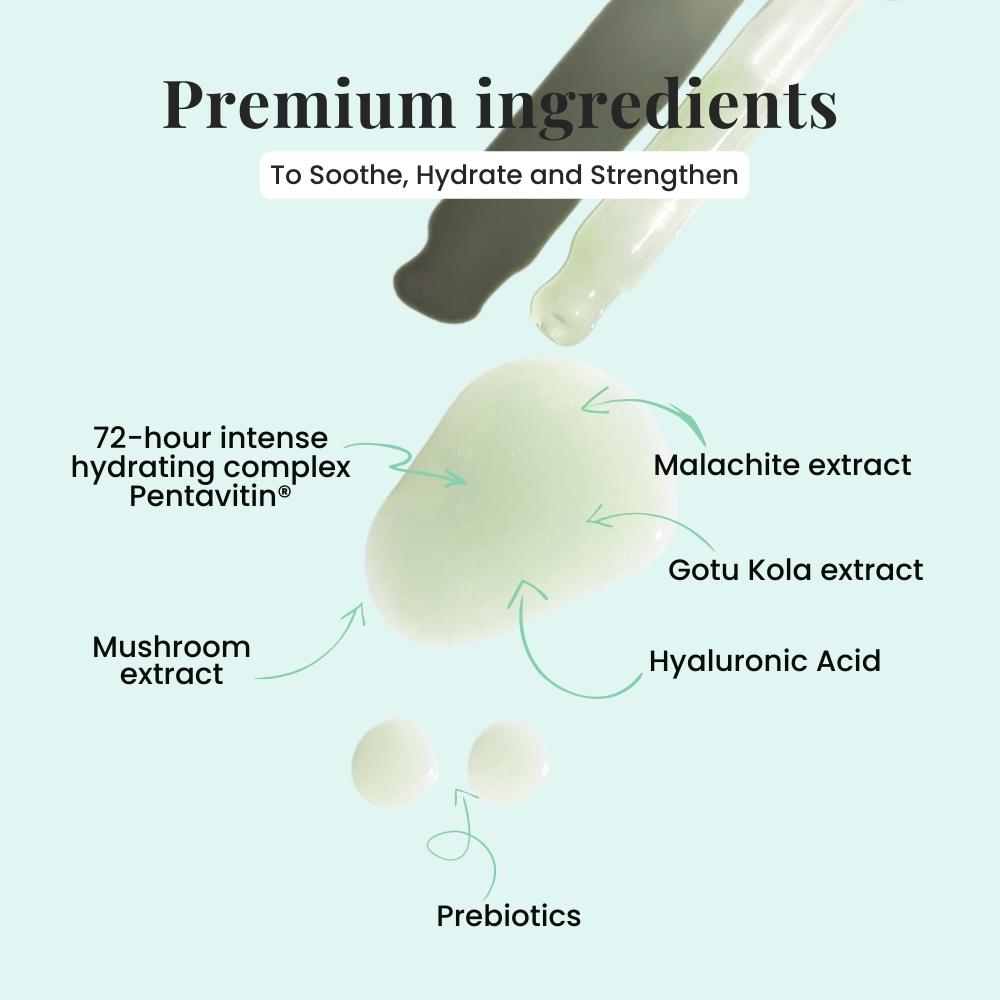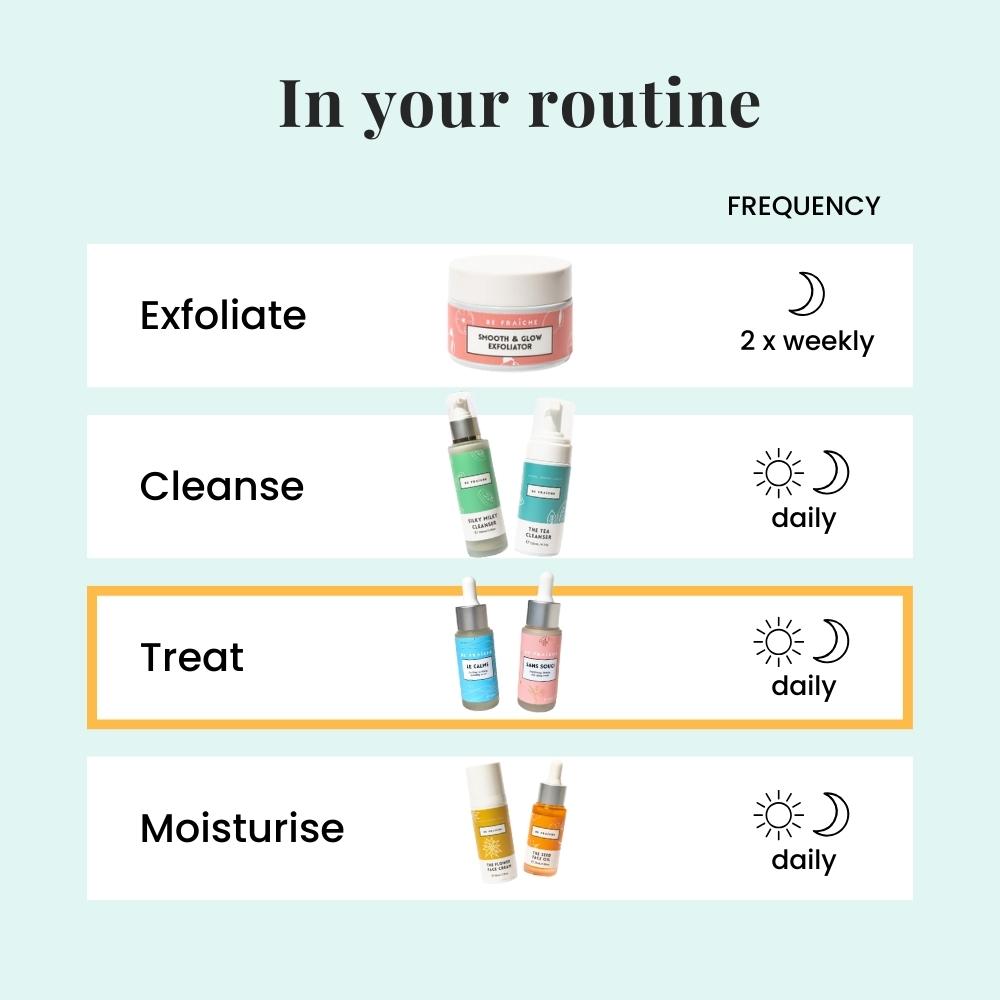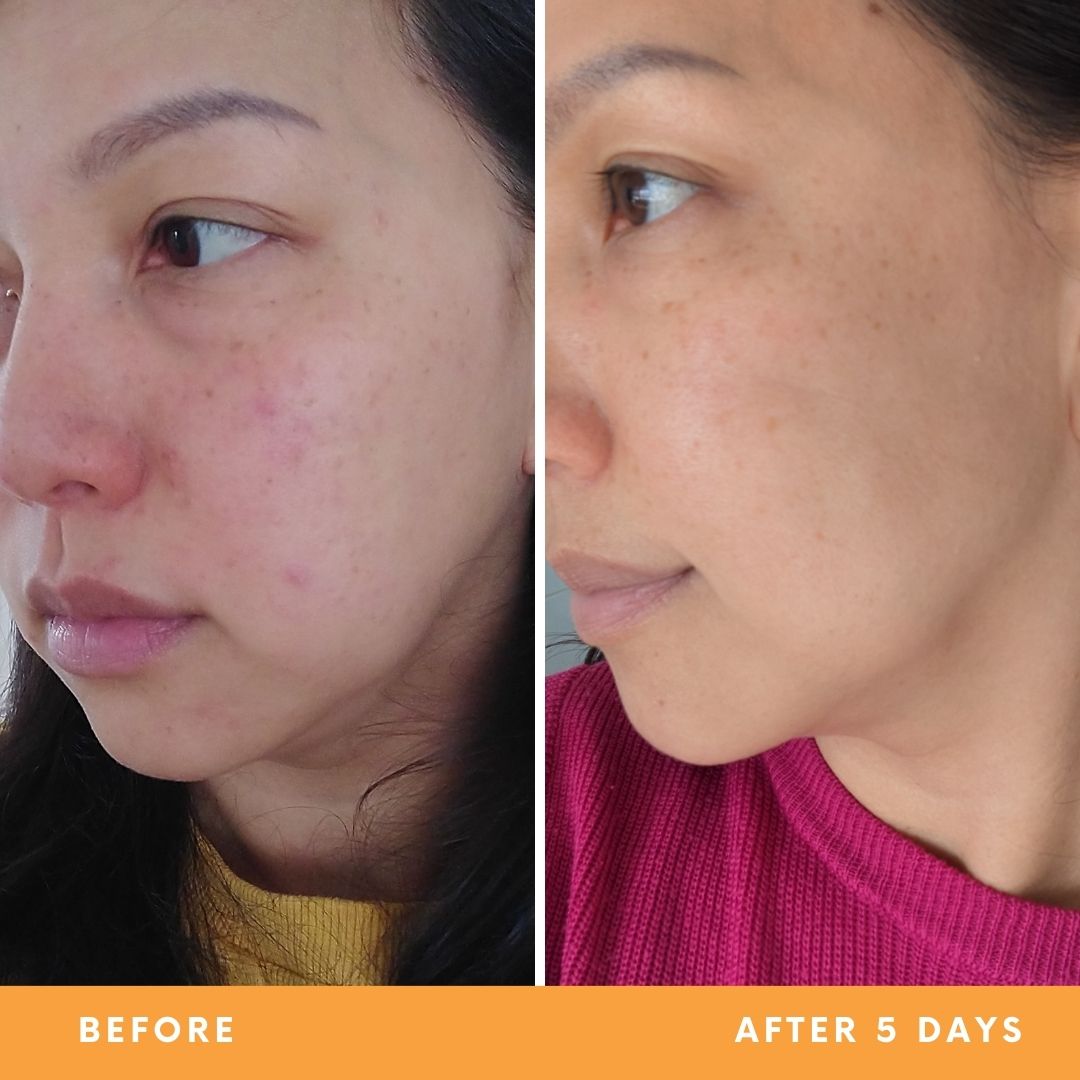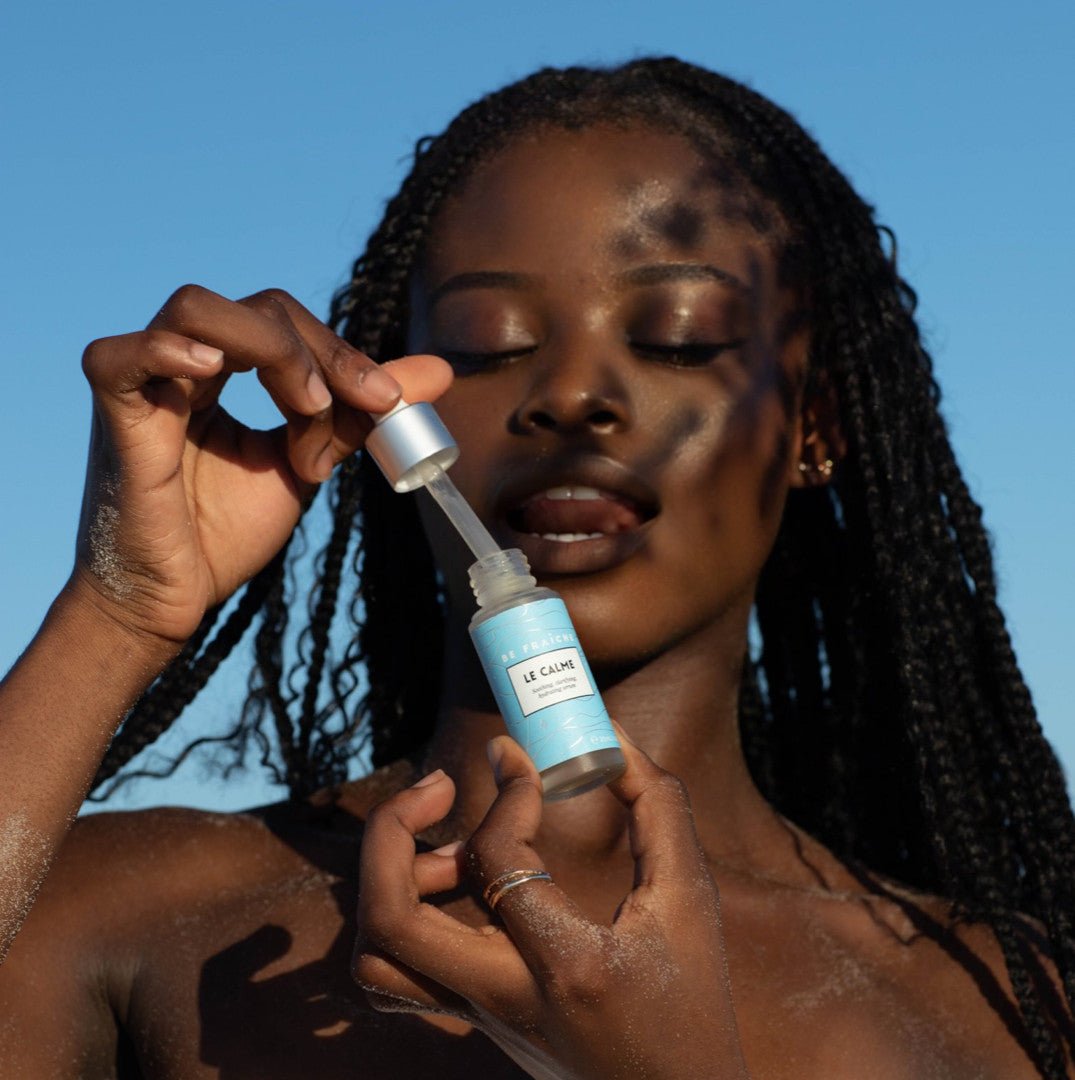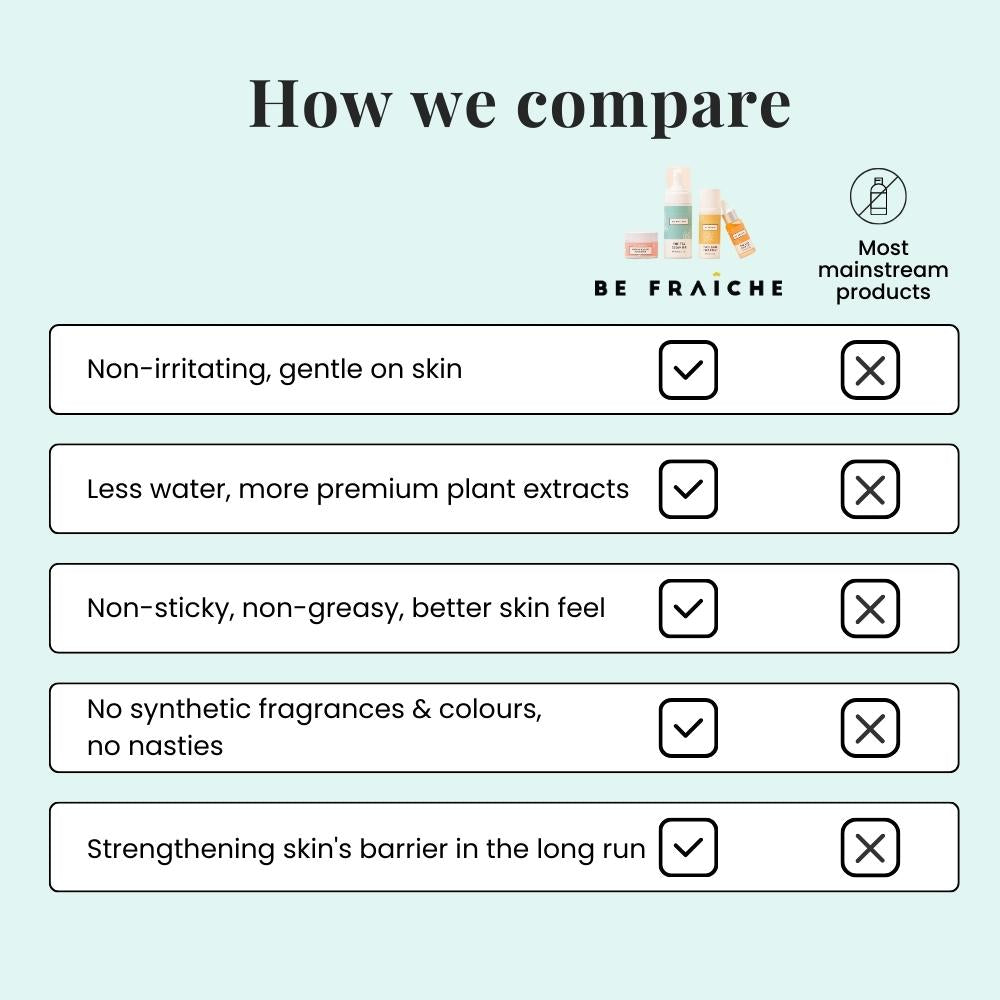 Le Calme Serum | Ultra-soothing, ultra-hydrating serum
Ultra-Soothing, Ultra-Hydrating, Clarifying Serum 25ml
Hey Belles, have you ever googled "How to reduce redness?", "What to do with dry, dehydrated skin?", or "How to calm stressed skin?". If you've been searching high and low for the best serum that sensitive skin can rely on daily, Le Calme Serum is for you!

Like a downpour of rain after the drought, our Le Calme Serum helps to soothe, hydrate thirsty, stressful skin and get her back on track!

This calming serum is bursting with hydrating power that lasts up to 72 hours thanks to Hyaluronic Acid and Pentavitin® (Saccharide Isomerate), an excellent water-binding plant-based complex that keeps your skin plump and fresh all day long. Containing prebiotics, Malachite, Gotu Kola and Oyster Mushroom extracts, our Le Calme Serum helps to soothe persistent redness and irritations and strengthen skin's barrier naturally. The results? Happy, calm and plump skin today, tomorrow and beyond!

Fragrance-free so all skin types can enjoy its benefits.
This could be the best skin-vestment you'll ever make!
ULTRA SOOTHING
Dehydrated skin needs lots of TLC, and this super soothing Serum contains Gotu Kola extract, and Bilberry extract to help calm dry, irritated skin.

ULTRA HYDRATING
Pentavitin is a naturally derived plant extract that helps retain water on the skin's surface longer than any other – you'll feel your skin drinking in all that moisture in no time!

BRING BACK THE GLOW
Now combined with Hyaluronic Acid, Le Calme Serum brings back elasticity and glow blah blah

STRENGHTHEN YOUR SKIN'S BARRIER
Repeat after me, a strong skin barrier = happy skin! Le Calme Serum helps bring a splash of hydration to dry skin, boosting its barrier and helping to protect against environmental nasties.
Utilising ultra-soothing and ultra-hydrating ingredients such as Gotu Kola, Bilberry extracts, Hyaluronic Acids and Pentavitin together makes this the best serum for sensitive skin. Keeping the skin hydrated and comfortable, our Le Calme Serum also effectively reduces redness. It will leave you feeling cool, calm and collected.
Step 1: Add a few drops of Le Calme Serum to your hands after cleansing or toning.

Step 2: Massage in circular motions and pat the skin gently, to ensure all of your product is absorbed.

Where does it fit in my routine?
☼
Le Calme Serum is best used after cleansing or toning, when your skin is feeling dull, dehydrated, depleted or lack-lustre. Use this alongside your favourite cleanser to bring back that glow!
☾
Use our Uplift Vibrating Rollers on your skin after applying your Le Calme Serum for extra bounciness & glow! Don't forget to apply your Seed Face Oil or Flower Face Cream afterwards for maximum hydration!

Hot tip: Combine this with our Sans Souci Serum to reap the ultimate benefits: brightening, firming and intense hydration & glow. Oh la la!

Love, Rose Distillate, Aqua, Glycerin, Inulin (Prebiotics), Propanediol, Malachite Extract, Saccharide Isomerate, Panthenol (Vitamin B5), Lisolecithin, Sclerotium Gum, Gotu Kola Extract, Oyster Mushroom Extract, Bisabolol, Sodium Hyaluronate, Benzyl Alcohol, Dehydroacetic Acid, Xanthan Gum, Pullulan, Fructose, Sodium Phytate, L-Arginine.